THE 8TH CORBETT RUNNING AND LIVING XC MARATHON
31st MARCH 2018
DISTANCE : 42.20 KM | 21.10 KM | 10 KM | 5.00 KM
Here is the link to the route for the runs  42.2k runners do 2 loops: Click Here
All these cross country runs start at Acorn Hideaway Resort and Spa at Sawaldey Village and end there too. There is a 21.1km loop towards the new Forest Gate at Dhela Village and past some resorts and back. The 10km runners turn back from short of the Dhela Gate, the half marathoners do 1 loops and full marathoners do 2.
The first 1.5km out from Acorn and the last 1.5km back on the loop are on a narrow pebbly forest trail - prepare well for that.
The 5km runners turn back after 2.5km on the road towards Dhela Village.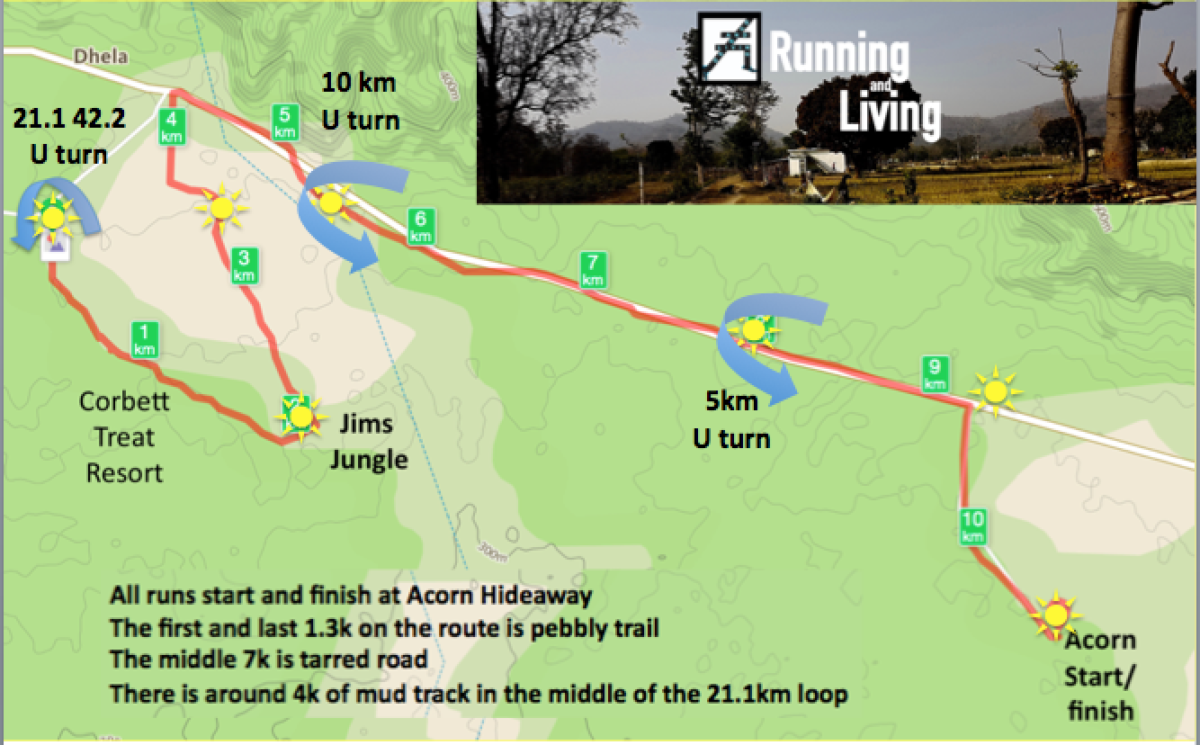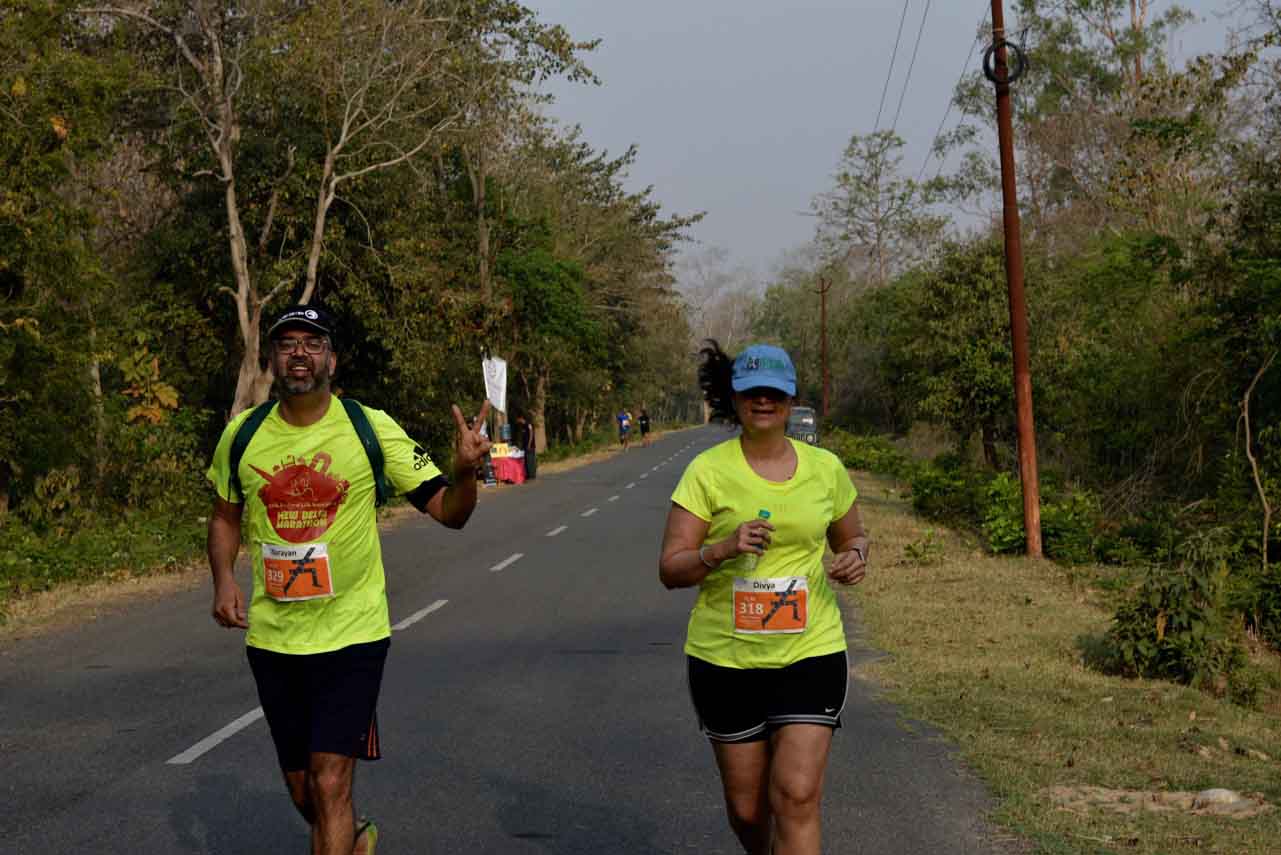 Drive or take a train or a bus
As you reach Ram Nagar while coming in from Moradabad, you will come to a T junction – the right fork goes along the Kosi river, towards Ranikhet and the left fork takes you towards Sawaldey Village and the Dhela and Khara Gate of Corbett Park and is also known as Dhela Road. Turn left and go down about 9km to Sawaldey Village There is a left turn and a 1.5km narrow mud and pebbled track to reach Acorn Hideaway Resort and Spa. We would recommend coming from Delhi by the overnight train - Ranikhet express - departure 1040pm from Delhi Junction and arrival Ramnagar at 5am. If you have planned well and got things organised for your jungle visit by your hotel or friends etc - we would ideally suggest that you go on a jungle visit straight from the station - as that starts at 6am, and then post that - freshen up and come to Acorn Hideaway Resort and Spa for the expo and race packet pick up.
Book accommodation and jungle trips early to avoid disappointment, Decide now - this is Corbett's peak season for visitors.
Check out our travel and stay partner ISTAYSPORTY for great quality and value -
There are several staying options in Corbett but you need to book now as this is a long and busy weekend Listed below are some options that can be checked out on the internet and you can call the places directly for your bookings and info on pick up and drop from Ramnagar station, transfers toAcorn Hideaway for the race at Sawaldey Village and the post race brunch, safari's & more.
Some accommodations in the Southern Corbett Area
| Superior | Standard | Budget |
| --- | --- | --- |
| Acorn Hideaway Resort and Spa | Ashoka Tiger Trail | Dhela Tourist Rest House |
| Jims Jungle Retreat | Tusk and Wings | Ramnagar Tourist Rest House |
| Corbett Woods | Corbett Kingdom | Corbett Palace |
| Corbett View | | Corbett Taj |
| Eco Tourism | | |
 Lots of resorts of varying budgets available at Corbett, several of whom are working on packages for the runs
| SRNO | Hotel Category | RESORT NAME | Distance from of Starting Point at Saweldey Village | Name of contact Person | Telephone no/Website |
| --- | --- | --- | --- | --- | --- |
| 1 | Superior | Acorn Hideaway and Spa | This is the start point | Manager | http://www.acornhotels.com/ |
| 2 | Superior | Corbett Wood Resort | 5 Km | Mr Hari Mohan | 9690725090/www.corbettwoodresort.com |
| 3 | Superior | Jim's Jungle Retreat | 5 km | Mr Sourav Bhattacharya | 9899989508/www.jimsjungleretreat.com |
| 4 | Superior | Ashoka Tiger Trail | 5 km | MR Vikram Kapur | 09871449971/www.ashokatigertrail.com |
| 6 | Standard | Corbett View Resort | 5 km | Mr Devender Rawat | 07500225367/corbettview.com |
| 7 | Budget | Corbett Palace | 7 Km | MR Harish | 9917079244 |
| 8 | Budget | Tushker Wings | 4 Km | Mr Hem Joshi | 9917082697 |
Make sure you organize your jungle trip through the resort you book at
 More general information on a variety of hotels is at:
Train with fellow runners, ask your queries, and then link up with folks to travel and stay together via the facebook event page - you can also link in your friends and get them to join you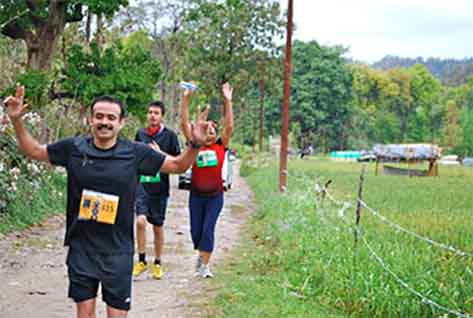 Running is a fun activity but running in a race, like engagement in any activity, also comes with attendant risks, which you should be aware of, and only then enter.
Anyone registering for a our race should make sure that he/she is medically fit and does not have any precondition - however minor it may seem to them, that would indicate that they should not run eg being on some medication, onset of a cold or flu,not yet recovered from a flu or an injury etc.
This run is cross country which CAN have a incidence of ankle twisting, slipping and falling.
Listen to your body and heart and do not push yourself beyond a limit. Walk when tired.
Some runs are in heat and in humidity, and require regular hydration to ensure you do NOT get dehydrated or start cramping. We want you to have fun and stay safe, and do your bit towards that.
If you are planning for a full or a half marathon choose one of these three training schedules depending on whether this is your first or if you are wanting to improve upon your performance, or make this your best ever full -
Try and car pool or come by train or bus while coming in - to stay green Baggage storage –within your own vehicle
Book Early And Save for this Race
THIS IS A CROSS COUNTRY AND A ROAD RUN
 Participants need to be at least 5 years old for the 5km run
 Participants need to be at least 12 years old for the 10 km run
 Participants need to be at least 18 years old for the Half Marathon and longer distances
 Please book accommodation closer to Acorn Hideaway - on the Dhela Road
 Race packets MUST be picked up at expo in person, else by any representative
 Best to come in person to also get familiar with the location, parking and anything else you may need
 Connect with others on the facebook events pages early to train together and car pool
 No race packet pick up on race day. Race packs and bib numbers have to be picked up at the expo on the day before the run
 Plan to be at the start at least 30 minutes before the start of the race as the races start on time and there is a gun start for your timing.
 Certificates and medals must be collected at the finish line
 Any race related queries must be emailed to contactus@runningandliving.com within 2 days of the race results being put up on the website
 No refunds of registration amount or transfer of registration
 In the remote case of the run being canceled due to reasons of State or Nature, beyond the control of the organisers, there will be no refund of the registration amount
 NO BIB - NO RUN - NO MEDAL - NO CERTIFICATE
 The Health Care medical team, water, toilets, sports drinks and time check will be there at various points, traffic Police – we want you safe and injury free with treatment close at hand if required. (see the map). Please call for an ambulance or aid if you ever do feel dizzy or unsteady.
At the EXPO
You will receive your runners pack and your bib number
Options on activities
All about the route - water and sports drink stops, toilets, first aid and more - last days do's and don'ts and anything else
Sales - of water bottle belts, briefs, water bottle belts and mobile phone arm bands
Location – At Sawaldey Village, Acorn Hideaway Resort and Spa, Ramnagar Taluka, Nainital District.
Please pre plan and pre book your safari with your hotel as this is a long and busy weekend at Corbett Book accommodation early Bib pick up for all races will be at the Marathon Expo on Friday Mar 30th between 10am and 3:30 pm at Acorn Hideaway in Sawaldey Village. Anyone can pick up your bib on your behalf. NO race packets will be handed over on race day. There will be information provided on the course. So if you are planning to run, block off some time for coming to the expo - you will get to know the way to the race location, the parking, and will also meet several other runners and make new friends. Come at the start of the expo to make sure you get as much info and are well rested for the big day No bib – no run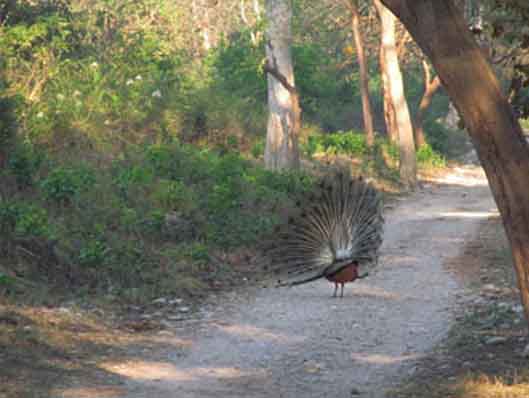 DETAILED INDIVIDUAL RESULTS OF THE 10.55K, 21.1K AND 42.2K ARE BELOW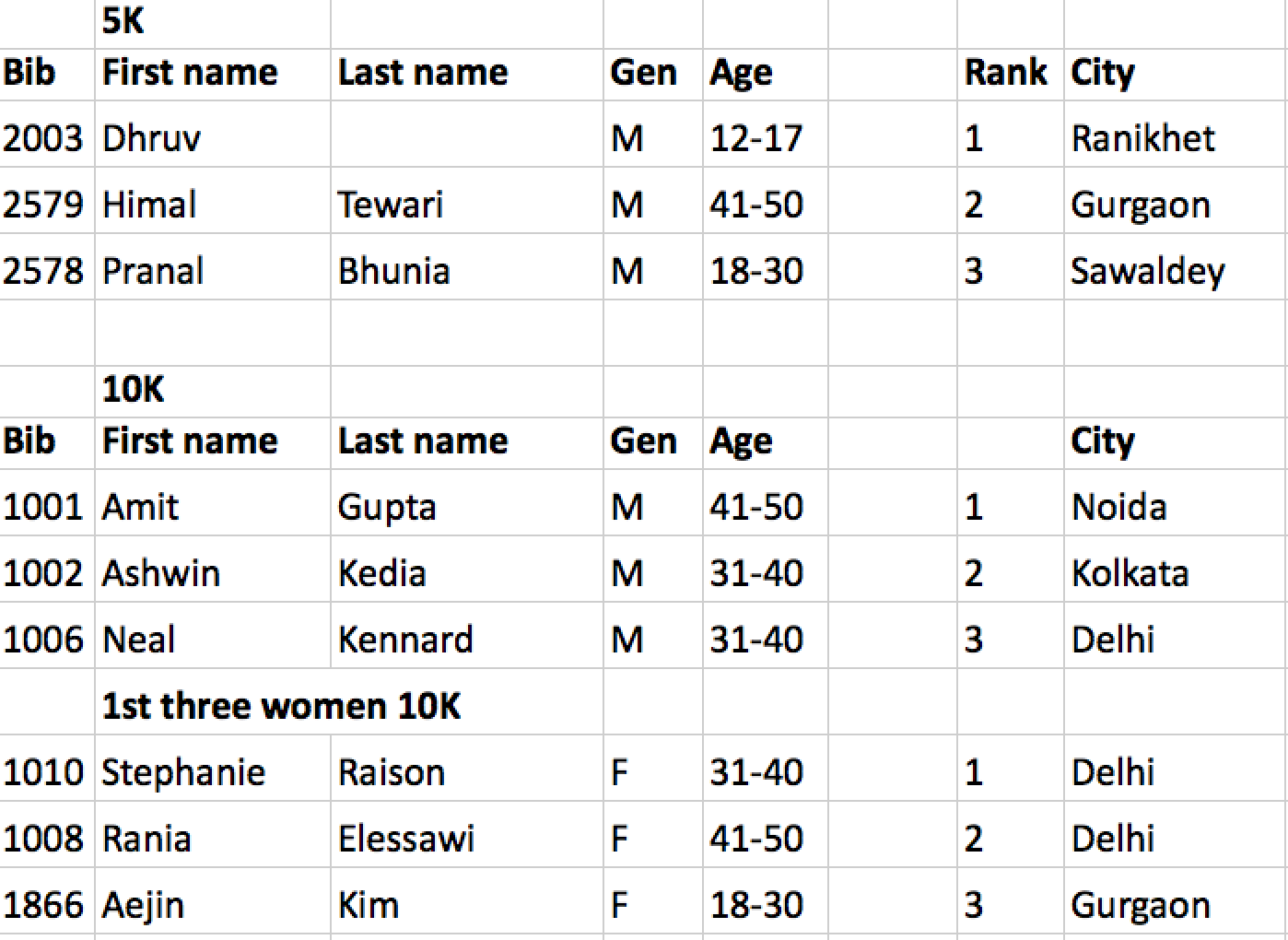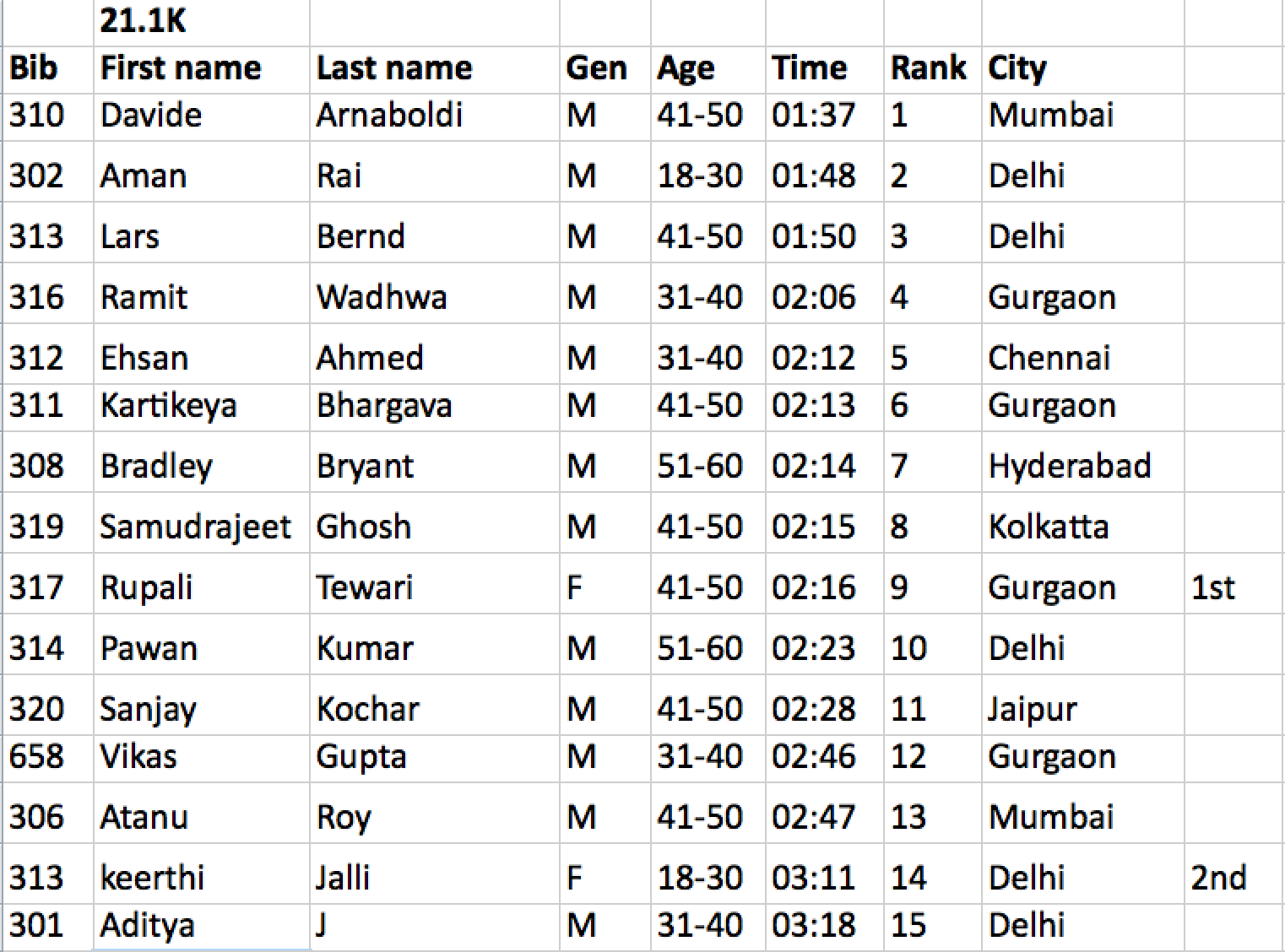 PHOTOGRAPHS IN THE ALBUM AT THE LINK BELOW
PHOTO Album

---
Running Distance
Start Time
Description
Registration Fee
inclusive of 18% GST
42.20 KM
31st Mar 2018, 05:00 AM
We will do a few spot registrations on Fri 30th Mar @3000 at the race pack pick up at Acorn Hideaway Resort and Spa at Sawaldey Village -10km from Ramnagar, Corbett 10am - 330pm
Rs. 3000
21.10 KM
31st Mar 2018, 06:00 AM
We will do a few spot registrations on Fri 30th Mar @2500 at the race pack pick up at Acorn Hideaway Resort and Spa at Sawaldey Village -10km from Ramnagar, Corbett 10am - 330pm
Rs. 2500
10.00 KM
31st Mar 2018, 06:15 AM
We will do a few spot registrations on Fri 30th Mar @2000 at the race pack pick up at Acorn Hideaway Resort and Spa at Sawaldey Village -10km from Ramnagar, Corbett 10am - 330pm
Rs. 2000
5.00 KM
31st Mar 2018, 06:15 AM
We will do a few spot registrations on Fri 30th Mar @1500 at the race pack pick up at Acorn Hideaway Resort and Spa at Sawaldey Village -10km from Ramnagar, Corbett 10am - 330pm
Rs. 11500