THE 9TH GURGAON RUNNING AND LIVING TOWN AND COUNTRY CROSS COUNTRY HALF MARATHON
29th JULY 2018
DISTANCE : 21.10 KM | 10.00 KM | 5.00 KM
The runs start and finish near Club Florence at Radha Soami Satsang Beas on Golf Course Road Extension in Gurgaon. Given the season the roads and paths and trails are likely to be full of puddles so get ready to get wet.
The 5k run is all on road and the 10km run does around 5k of trail which includes some uphill running.
The 21.1K includes a 7km trail in the Aravallis - scenic and tough, unless it is raining when you are on the trail - then it is scenic and slippery but cool.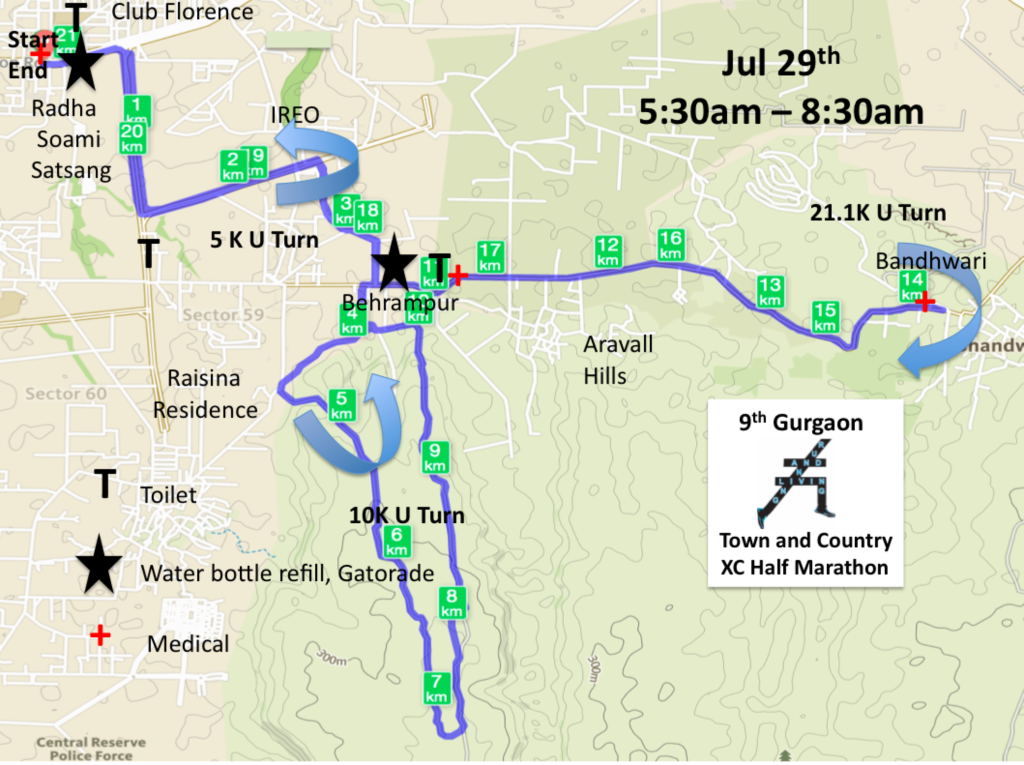 Here is a link to the route and to check out the elevation - click here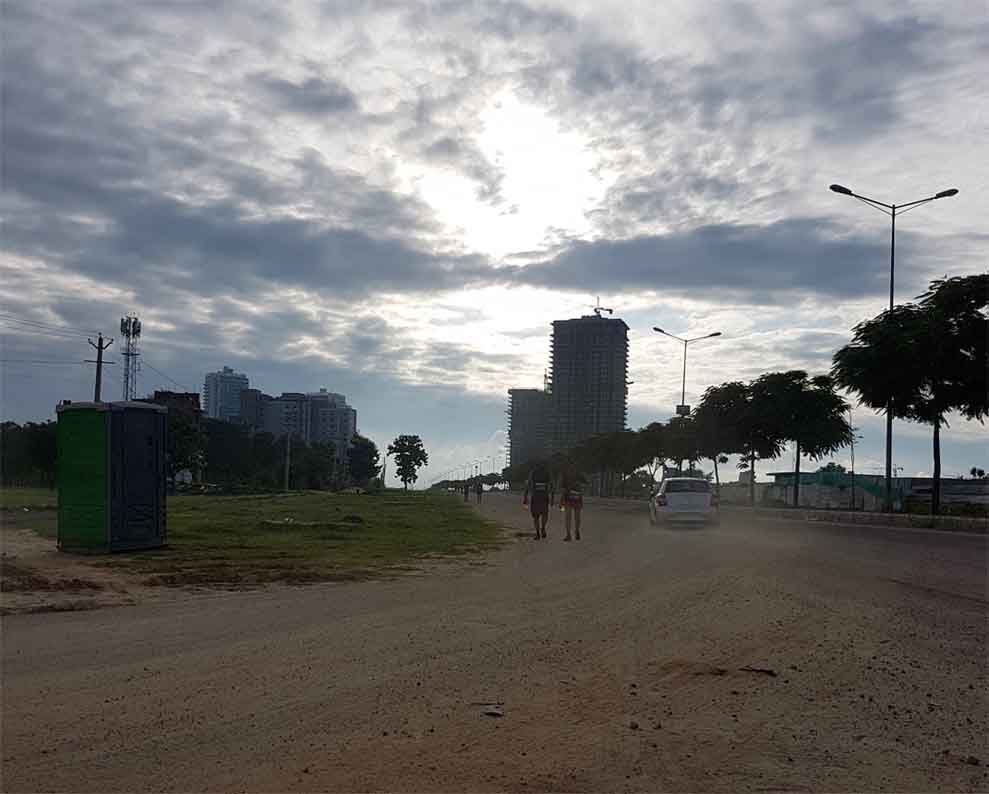 The runs start and finish from near Club Florence so park your vehicles there and use the rest rooms.
THE ROUTE ELEVATION: Start and finish at 250m. High point 314m, low point 235m
So book early and train well.  Plan to be at the start 30 minutes before the start of the race.
The runs are organised by runners for runners. Experience the thrill as you cross the finish line. The course is not flat, and is humid, and includes some cross country running, is scenic and well supported - YOUR SIPPER IS A MUST FOR YOU TO CARRY ON THE COURSE. It also gets you in the habit of hydrating well on your training runs in case you are not already doing so.
Strengthen your ankles, get more sure footed. This stretch may test your balance and agility. The Half Marathon will remain open for 3:15 hours with Sports drink, Water, Max Health Care Support and our enthusiastic volunteer support. Beyond this -timing mats and this support will be withdrawn, so if you are currently a 2:45 half marathoner or slower and interested in this race, we would suggest you train and register for the 10K run and focus on improving your timing in this tough run.
The race pack pick up is near the start and finish location of the half marathon. The 10K and 5k run will also start and finish at the same location
For those coming from Delhi via the Mehrauli Gurgaon Road - as you cross Sikanderpur, cross the Bristol Hotel Round about with MegaMall on your right - That is the golf course road. Carry on down till the end of the road and turn right at the T point - This is Golf Course Extension Road. continue straight for around 500m and Club Florence is on the right and the race start point is on the left. Lots of parking around the club and it's a 400m walk to the start point.
For those coming from Delhi via the Highway - exit at Signature Towers and turn left. Go past HUDA City Centre station and turn right after Fortis Hospital - with Fortis on your right. Go around 4-5 km past Gold Souk on your left and then HongKong Bazaar on the right. The next major crossing is Golf Course Extension road - turn left here. Club Florence is 500 m ahead on the left hand side.
Try and car pool while coming in - to stay green and not jam the parking area.
Get as many of your family and friends to join us so that they can cheer you on at several points and make it a fun race as you see their placards, they photograph you and cheer loudly for you, as well as the other runners. Experience the serenity of rural India, early in the morning with the rooster crowing , cows mooing, and take in the sun rise during your run.
The Max Health Care medical team, water, toilets, sports drinks and time check will be there at various points - we want you safe and injury free with treatment close at hand if required. (see the map). Please call for an ambulance or aid if you ever do feel dizzy or unsteady.
Link up with fellow participants and train and car pool together.
Meet up with others who stay close by and run together even after this event.
click on the facebook event page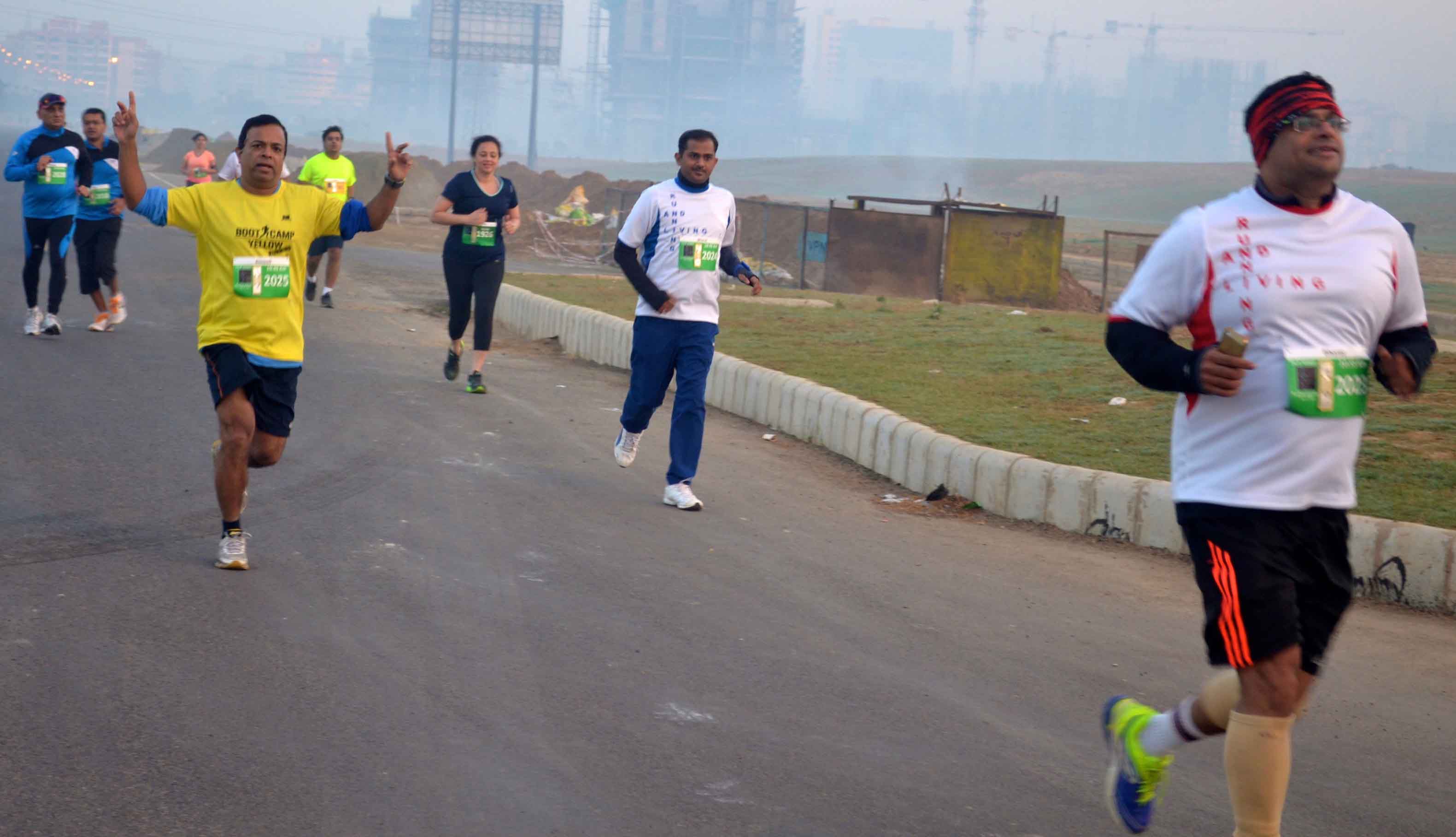 Running is a fun activity but running in a race, like engagement in any activity, also comes with attendant risks, which you should be aware of, and only then enter.
Anyone registering for this race should make sure that he/she is medically fit and does not have any precondition – howsoever minor it may seem to them, that would indicate that they should not run eg being on some medication, onset of a cold or flu, not yet recovered from a flu or an injury etc.
This run is partly cross country which CAN have a incidence of ankle twisting, slipping and falling particularly as it may be raining with some slush etc on the path. This is not a great run for new and spotlessly clean shoes. Trail shoes are ideal.
It is critical to listen to your body and heart and not push yourself beyond a limit especially in this humid season where you start the run sweating. Walk when tired. This run in heat and humidity requires REGULAR HYDRATION to ensure you do NOT get dehydrated or start cramping. Take in some extra salt too. Definitely refill your sipper along the track and glug some of the magic potion (sports drink) along the way.
We want you to have fun and stay safe, and do your bit towards that.
Try and car pool while coming in - to stay green and not jam the parking area around  Club Florence.
Baggage storage - within your own vehicle
Slow runners - we will be there - whatever time you finish - you are the hero that day, Don't worry about anything but completing your journey that you have embarked upon
If you are training for your
1st Half Marathon, look no further for a great schedule,
10k training program for the 1st timer,
5k training program for the 1st timer
There are last week and last day tips to runners available at Keen Runner.
The final 3 weeks: Check out the last 3 week schedule at one of the training programs on our site which suits your level of training and your goals. Remember – train well and you will finish smiling. All the very best and congratulations on your decision.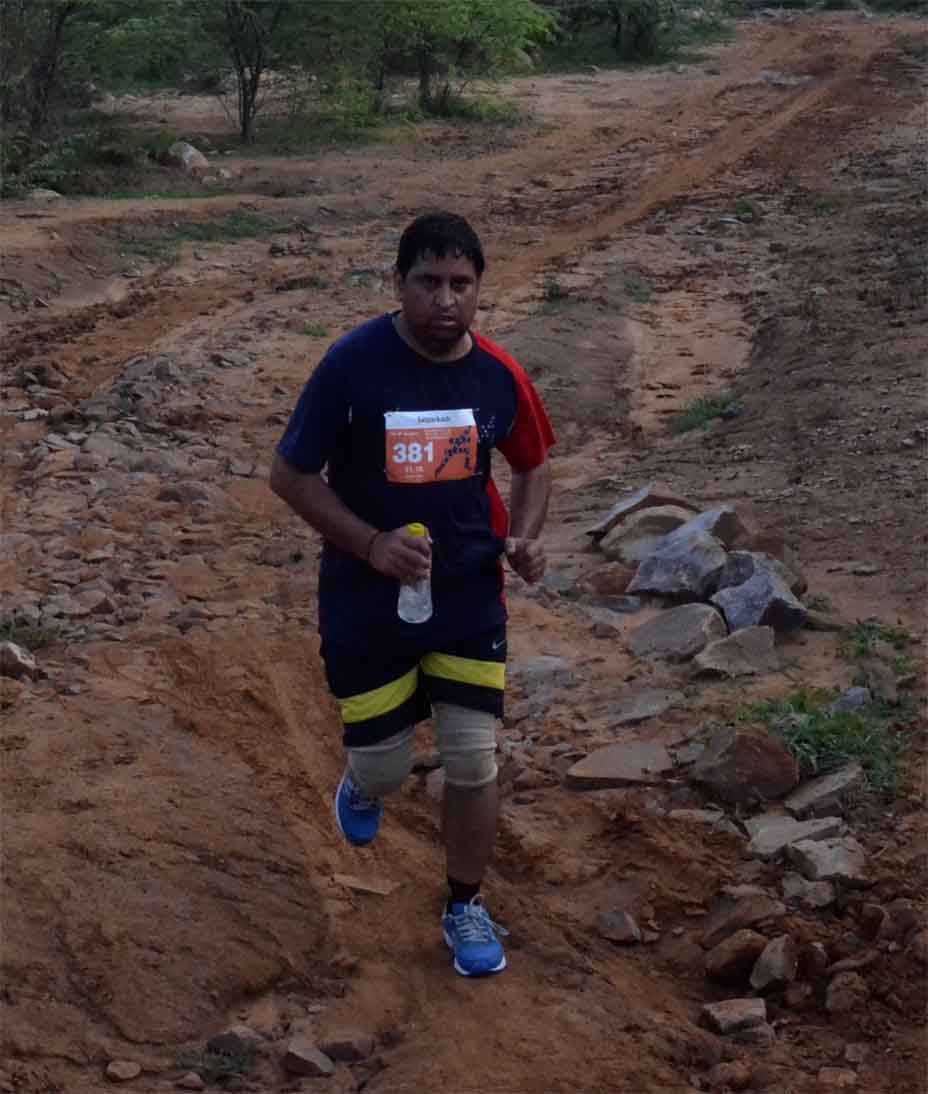 YOU ARE REQUIRED TO CARRY YOUR OWN WATER FOR HYDRATION - SIPPER PROVIDED AT RACE PACK PICK UP. NO SIPPER - NO RUN.
REFILL STATIONS ARE at 3km, 10km and 18km along the route

Participants need to be at least 5 years old for the 5km run
Participants need to be at least 12 years old for the 10 km run
Participants need to be at least 18 years old for the Half Marathon
Race packets MUST be picked up at expo in person, else by any representative
Best to come in person to also get familiar with the location, parking and anything else you may need
Connect with others on the facebook events page early to train together and car pool
No race packet pick up on race day. Race packs and bib numbers have to be picked up at the expo
Plan to be at the start at least 30 minutes before the start of the race as the races start on time and that is when the clock for the 21.1k starts ticking at the gun start.
The time limit for the half marathon is 3:15 hours post which support of hydration and medical and volunteers will be removed. If you are currently slower than 2: 45 for a half marathon we would suggest you run a fast 10k distance and DO NOT register for the half marathon. Medals must be collected at the finish line. Certificates for 5k finishers will be given at the finish line and certificates for the timed runs will be downloadable from www.runizen.com
Any race related queries must be emailed to contactus@runningandliving.com within 2 days of the race results being put up on the website
No refunds of registration amount or transfer of registration
In the remote case of the run being canceled due to reasons of State or Nature, beyond the control of the organisers, there will be no refund of the registration amount
NO BIB - NO RUN - NO MEDAL - NO CERTIFICATE.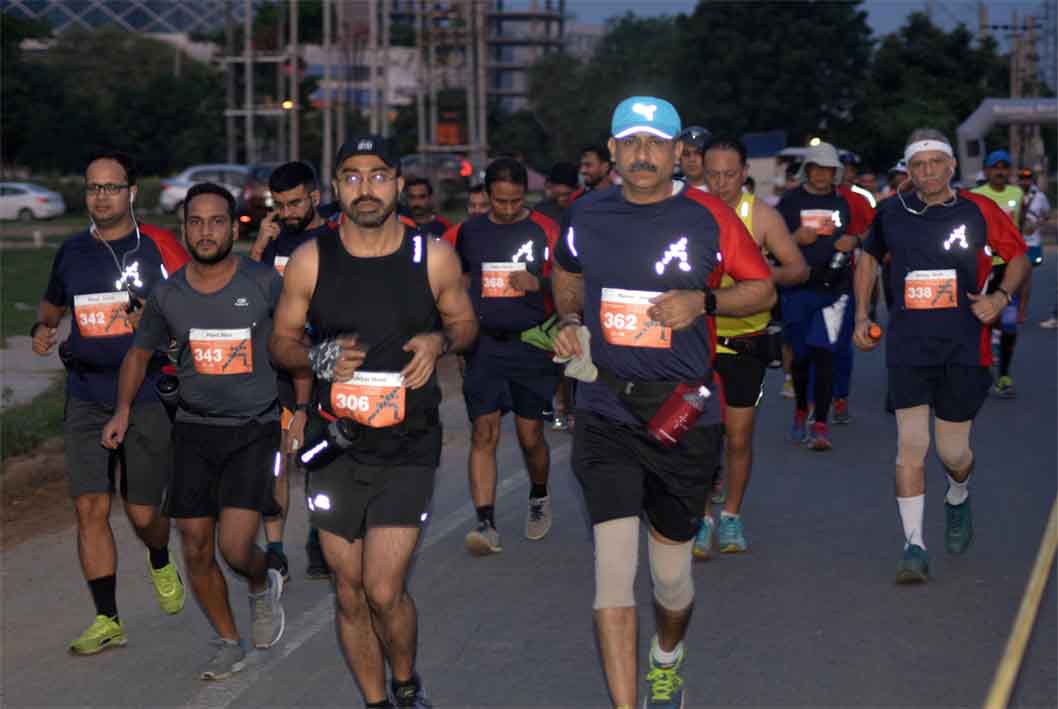 Bib pick up will be at the expo on Saturday Jul 28th from 9am to 3:00 pm sharp at Club Florence on Golf Course Road Extension. Be punctual
There will be information provided on the course. So if you are planning to run, block off some time for coming to the expo - you will get to know the way to the race location and will also meet other runners and check out some running gear for the climatic conditions.
Race pack pick up:
Location Club Florence - Sector 56, Gurgaon - Golf Course Extension Road
Timings 9:00 am to 3:00 pm on Saturday 28th July 2018
Come at the start of the expo to make sure you get as much info and are well rested for the big day
Congratulate yourself again for finishing this grueling run and check out the event photographs
The 8th Gurgaon Running And Living Town and Country Half Marathon 30th Jul 2017
Relive your race : For photos of race day

---
Chip timed qualifier for National and International running events - Humidity, mud, rain, slush, sweat, Aravalli trail - see how tough you really are
YOU ARE REQUIRED TO CARRY YOUR WATER FOR HYDRATION - SIPPER PROVIDED AT RACE PACK PICK UP. REFILL STATION at 3km, 10km and 18km LOCATIONS
Race pack pick up includes 3 face masks (for use on days when air quality is poor )on  28th Jul Sat 9am -3pm at Club Florence Sec 56 Gurgaon. If you cannot come in person, arrange for someone to collect the pack on your behalf as we close at 3pm.
Running Distance
Start Time
Description
Registration Fee +
18% GST
21.10 KM
29th Jul 2018, 05:30 AM
SPOT registrations @ 2500 on 28th July 9am -12noon at the race pack pick up at Club Florence. Details on the webpage. Cash or PAYTM
Rs. 2500.00
10.00 KM
29th Jul 2018, 05:45 AM
SPOT registrations @ 2000 on 28th July 9am -12noon at the race pack pick up at Club Florence. Details on the webpage. Cash or PAYTM
Rs. 2000.00
5.00 KM
29th Jul 2018, 05:45 AM
SPOT registrations @ 1500 on 28th July 9am -12noon at the race pack pick up at Club Florence. Details on the webpage. Cash or PAYTM
Rs. 1500.00